Education
1985 Diploma di Perfezionamento in Musicologia (Ph.D. in Musicology equivalent) Bologna University, Italy (3 years)
1973 Diploma Corsi Studi Musicologici (Diploma at International courses of Antique Music) Bologna University, Italy (1 year)
1972 Laurea in Legge (Doctoral Degree in Law) Trieste University, Italy (4 years)
1971 Certificate of attendance at the Swiss Jazz School, Bern Switzerland (1 year)
1966 Classical Certificate of Education (5 years)
and also:
1979–1983 private composition studies with Sylvano Bussotti and Armando Gentilucci
1976–1978 private percussion studies at Florence Conservatory of Music (Italy)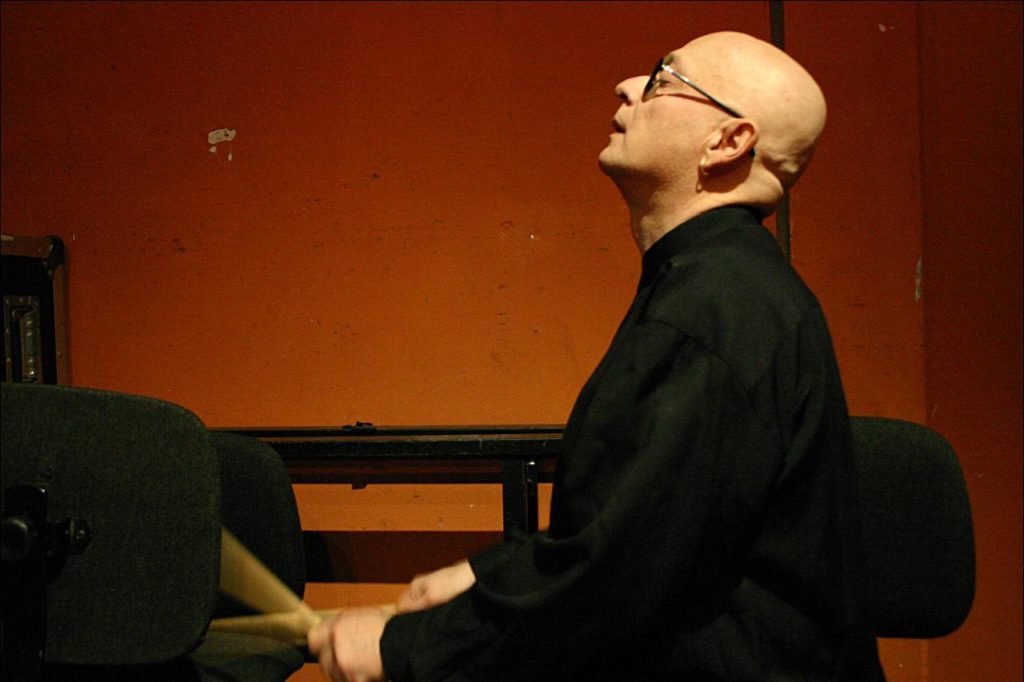 Biography
During his artistic career that spans over 45 years, composer, electro-acoustic percussionist, author, conductor, multimedia artist, and teacher Andrea Centazzo has given more than 1000 concerts and live performances in Europe, Asia and the United States, as well as appeared and performed on numerous radio and television broadcasts worldwide.
In 2011, his Alma Mater, the University of Bologna (Italy) honored him by establishing the "Fondo Centazzo" section of the University Library, where all his musical works are housed and made available to students, scholars and musicians.
Centazzo has taught courses on Music, Percussion, Art, Film, multimedia production and video in universities, high schools and music conservatories including the University of Bologna, the Music Conservatory of Stuttgart (Germany), the High School of Setubal (Portugal), the Art School of Trieste, Italy, and many more (complete list available separately). From 2014 Centazzo will teach Master Classes for the Ph.D. in Music at the Music Conservatory, University of Bologna, Italy showing to the students his innovative approach to the solo digital/acoustic percussion multimedia.
In 2012 he presented 24 concerts in N.Y. for the 35th anniversary of Ictus label performing on digital keyboard and percussion with the top US improvisers including John Zorn.
In 2009 he conducted the John Cage Concerto for Piano and Orchestra featuring Stephen Drury at the Williamsburg Center in NY City in a triple bill featuring also John Zorn and Philip Glass.
He has recorded, engineered and produced over 160 LP's, CD's and DVD's, and he has authored 400 compositions mostly published by Warner Chappell (ranging from opera and symphony to solo works), 2 drum methods and four musicology books. He is also the author of his operas' librettos and he wrote many articles and essays on the major Italian magazines and newspapers.
He is the director of more than 20 video films presented in all the festivals and venues around the world based on his percussion music. He also directed and staged his operas as well theatrical plays of other American authors.
He has performed at festivals, concert seasons, and theaters as percussion soloist and conductor of his compositions, conducting members of the American Youth Symphonic Orchestra, the TINA Contemporary Orchestra, the Mitteleuropa Orchestra, the ER Youth Symphonic Orchestra and many other ensembles. He also directed and staged his operas as well theatrical plays of other American authors.
His opera Tina was highly acclaimed in Italy (1996) as well in California (1998) where it was staged with an English libretto translation by Paul Vangelisti.
In 2002 Centazzo composed Sacred Shadows a multimedia work scored for Balinese Gamelan and Western Ensemble, one of the few works blending Balinese and Western music..
Solo percussion
Centazzo was one of the "game changers" (Drum Magazine, 2013) that started the solo improvised electro-acoustic percussion concert movement back in the 70s. In 1972 he performed the first solo concert followed in the years by performances all over the world. Robert Moog was one of his early fan, endorsed his work and gave him the possibility to use the Moog synthesizer since 1975
For 20 years now, Centazzo has been working to create multi-media experiences, combining live music with self created video images, blending traditional instrumentation with the latest music digital technology. His two multimedia solo project Mandala (2005 inspired by the Buddhist Universe) and Eternal Traveler (2007, inspired by Leonardo da Vinci) have been performed both in the States and in Europe.
Most recently (2008-2011), Centazzo wrote and performed the multimedia shows Einstein's Cosmic Messengers (with NASA astrophysicist Michele Vallisneri, inspired by the Caltech gravitational-wave detector LIGO) and R-Evolution (inspired by the life and work of Charles Darwin).
He presented a solo anthology concert in 2011 at the Kennedy Center in Washington DC (see http://www.kennedy-center.org/explorer/videos/?id=M4402).
Collaborations
Centazzo recorded and played with the most prominent improvisers and composers of the last 30 years. Among many: John Zorn, Steve Lacy, Alvin Curran, Don Cherry, Lester Bowie, Evan Parker, Anthony Coleman, Derek Bailey, Tony Oxley, Paul Lytton, Paul Lovens, Pierre Favre, Vinnie Golia, Mark Dresser, Paolo Fresu, Enrico Rava, Dave Ballou, Gino Robair, Larry Ochs, Giancarlo Schaffini, Henry Kaiser, Elliott Sharp, Fred Frith, Albert Mangellsdorf, Franz Koglmann, Theo Jorgesmmann, Perry Robinson, Kristoph Kaskel, John Carter, Andrew Cyrille, Barry Altschul, Lol Coxhill, Steve Swell, Jon Raskin, ROVA Saxophone Quartet, Stephen Drury.
Awards
Bruce Chatwin Award Music Video Festival, La Spezia, Italy 2003
Appreciation Award for composing "Return to Vukovar". From Croatia Government, Los Angeles (1997).
Angelo del Castello Award for Lifetime Achievement, Udine, Italy (1996)
Drama-logue Award for Best Sound Design, Los Angeles (1993).
Premio Ecoclip Video First Prize, Vinovo, Italy(1992).
Premio Accademia Vibiniensis, Special Achievement award for a Body of Work, Bovino, Italy (1992).
Premio Friuli Aquila d'Oro Award for Lifetime Achievement, Udine, Italy (1988).
Premio VideoMagazine for Best Video, Milano, Italy (1988).
Premio C.C.I.A.A. Videofilm Festival, Udine, Italy (1987).
Premio "Milano Scienza" Centro Nazionale Ricerche e Rai, Milano, Italy (1987)
Merit Award International Video Festival, Tokyo, Japan (1986).
Prix Art Canal Ministere de la Culture Française, Montbeliard, France (1986).
Special Prize Music Film Festival, Warsaw, Poland (1987).
Excellence Award International Video Festival, Tokyo, Japan (1985)
Gabbiano d'Oro First Prize, Festival Cinema Indipendente Italiano, Bellaria, Italy (1985).
Down Beat Poll "Wacks on Wacks", Chicago (1981).
Premio Speciale Critica Discografica Italiana, Milano, Italy (1980).
Design of percussion instruments
By 1976, he had parlayed his interests in sound exploration into a consulting gig with the Italian cymbal cooperative UFIP (Unione Fabricante Italiana Piatti, or The Union of Italian Cymbal Makers), and began designing new instruments under the imprint Ictus 75. "I spent '74 through '75 working with them, doing prototypes using the left overs from the cymbal work. At that time, they were casting the cymbals in the ground, like bells, and it was very easy for the metal to pick up impurities. When you played the cymbals, the metal was weak at that point where the impurity was and immediately cracked. So they had a lot of broken cymbals. I started to work with the broken cymbals, and that's where the Icebell idea came from.

"Originally, the Icebell was just the bell of a broken cymbal that I cut and lathed in different ways until I got that kind of sound. UFIP also had a shell for very weird cymbals with a big bell and that became the first big model Icebell, which had that very low and deep tone." Centazzo went on to invent the Tampang and Ogororo, as well as many instruments that never went beyond the prototype stage. (The majority of his prototypes and other rare pieces from his collection were recently donated to the Museum of Percussion in Pistoia, Italy, where UFIP is located.)

As a result, Centazzo has become one of the éminence grise of contemporary percussion design. Through his work with UFIP in the '70s, as a top artist for Paiste, and from his endorsement deals with Remo, Vic Firth, and Premier, he has helped expand the traditional sound palette to meet the needs of composers and percussionists.

From a Gino Robair Article on Drum! Magazine (May 2013)
Discography (2005-2014)
All CD/DVD's featuring Andrea Centazzo as leader or co-leader as percussionist or conductor)
All music composed by Andrea Centazzo
All CD/DVD's by ICTUS RECORDS (www.ictusrecords.com)
This catalogue contains all the Andrea Centazzo revised and re-edited recordings between 1972 and 2007.
All tracks recorded and released on other labels (except few exceptions) are included here.
Many titles first released on LP's (some under different names and different tracks order)
Percussion solo & groups:
401 MANDALA
402 DEPARTED ANGELS
403 INDIAN TAPES
404 VISIONS
405 MIDNIGHT ALL DAY
406 ETERNAL TRAVELER
504 KOANS (P.Favre, D.Moss, A.Cline & Others – 3 CD'S)
506 FRAGMENTS (A. Centazzo solo percussion – 2 CD'S)
201 SACRED SHADOWS (Cudamani Gamelan Orchestra & others conducted by the composer)
Out of print: La passion Selon Sade; six solo intrepretation of Sylvano Bussotti solo percussion composition
New Music/Classical Music:
301 THE HEART OF WAX (Virtuosi Italiani Strings & Others conducted by the composer)
302 THE SHADOW & THE SILENCE ( ACMitteleuropa Orchestra feat. G.Ravazzi, sop. conducted by the composer)
304 TINA (Opera – feat. F.Massa, bar. F.Ziveri, sop. conducted by the composer)
305 A REQUIEM (ER Youth Symphonic Orchestra conducted by the composer)
306 PIANO MUSIC (feat. D.Biancucci)
307 CHAMBER MUSIC (feat. Gerbi Clarinet Quartet, Percussion Ensemble & Others conducted by the composer)
308 RAIN ON THE BORDERS (large ensamble conducted by the composer
Improvised music and composed music for improvisers:
121 CLANGS (feat. S.Lacy)
122 DROPS ( feat. D.Bailey)
123 IN CONCERT (feat. S.Lacy, K.Carter)
124 IN REAL TIME (feat. A.Curran, E.Parker)
125 THE BAY (feat. ROVA Sax. Quartet)
126 THE NEW US CONCERTS (feat. J.Zorn, J.Carter, T.Cora & Others)
127 THE NEW YORK TAPES (feat. J.Zorn, T.Cora & Others)
128 DOCTOR FAUSTUS (feat. A.Mangellsdorf, T.Jorgesmann, C.Zingaro & Others)
129 THIRTY YEARS FROM MONDAY (feat. L.Coxhill, A.Curran, G.Trovesi & Others)
130 BACK TO THE FUTURE (feat. A.Coleman, D.Williams & Others)
131 TAO (feat. S.Lacy)
132 REBELS, TRAVELERS & IMPROVISERS (feat. J.Fisher, L.Bowie & Others)
133 NEW SHOCK! (feat. G.Trovesi)
134 CJANT (AC Mitteleuropa Orchestra)
135 MOOT & LID FINAL ( feat. L.Coxhill, G.Schiaffini)
136 THE RECOLLECTION (feat. T.Cora, G.Hampel, C.Actis Dato & others)
137 DARKLY (feat. F.Koglmann, L.Coxhill)
138 DARKLY AGAIN (feat. F.Koglmann, L.Coxhill)
139 AFTER THE SILENCE (feat. G.Cardini)
140 ICTUS COMPILATION (feat. all ICTUS musicians from the 12 Cd's Box Set)
141 THE SOUL IN THE MIST (feat. P.Robinson, N.Stowe)
142 INFINITY SQUARED (feat. H.Kaiser)
143 THE WARRIORS (feat. T.Kondo, E.Chadbourne)
144 LOS ANGELES TAPES (feat. H.Kato, M.Cappelli)
146 AC VOYAGERS (feat. H.P. Salentin, S. Bialas)
148 WEST COAST TRIO (feat. K.Kurosawa, M.Honda)
149 COXHILL COLLECTION (feat. L. Coxhill, Franza Koglmann)
150-151 LIVE IN WOODSTOCK (feat. J. Giardullo)
152 INFINITY SQUARED (feat. H. Kaiser)
153 MOON IN WINTER (feat. Dave Ballou)
154 SNOWPLOW (feat. E. Sharp)
155 SEPTEMBER IMPRESSIONS
156 ESCAPE FROM 2012 (Feat. D. Preston)
157 VELOCITIES (feat D. Williams, L. Smith)
159 HALCYON DAYS (feat D. Williams, L. Smith
160 35TH ANNIVERSARY (various Artist with AC percussion)
161 LOST IN JUNE (feat. S. Lacy, K. Carter)
162 BRIDGES (feat A.Sakata, K. Fujiara)
163 IN A RAINY DAY (feat R. Ottaviano)
166 THE BATTLE (Invasion Orchestra conducted by the composer)
168 LATECOMERS (feat. A. Coleman, G. Schiaffini, S. Swell)
169 RITUALS ((feat. D. Williams, L. Smith)
170 ICTUS NIGHTS #1 (various Artist with AC percussion)
171 DEREK BAILEY TRIBUTE BAND (feat. C. Cochrane, M. Cappalli, A. Nillson)
172 ICTUS NIGHTS #2 (various Artist with AC percussion)
Released as promo: STOLEN MOMENT (feat. Marilyn Crispell)
500 ICTUS Records' 30th Anniversary (12 CD'S BOX SET from ICTUS 121 to 132)
501 (1/2/3/4/5/6) MITTELEUROPA COMPLETE RECORDING (6 CD'S)
502 (1/2/3/4) DOUBLE (Guido Mazzon, Andrea Centazzo – 4 CD'S)
503 (1/2) PROGRESSIVE JAZZ FROM ITALY 1970/75 BOX SET (2 CD'S)
505 THE GERMAN HORSE (Eugene Chadbourne, Andrea Centazzo – 2 CD'S)
Contemporary Music & Soundtracks:
201 SACRED SHADOWS (Cudamani Gamelan Orchestra & others conducted by the composer)
202 WITH LOVE'S LIGHT WINGS (Posnam Symphonic Orchestra & others conducted by the composer)
203 HENCEFORWARD (AC Ensemble)
203 CETACEA (AC Ensemble)
205 SECRET OF JOY (AC Ensemble)
206 SONGS AND THOUGHS (AC Ensemble)
207 SPACES (AC Ensemble)
208 SPEED THE PLOW & MORE (feat. A.Curran, C.Actis Dato, R. Manuzzi & Others)
209 SOUTH (feat. C.Actis Dato, R.Manuzzi & Others)
210 DEEP SPACE (for Symphonic Orchestra)
211 SEVEN GIANT WAVES (Thai Ensemble & Percussion ensemble)
701 WORLD PERCUSSION XMAS (World Music percussion Ensembles)
702 DICTATORS (Dictators feat. various musicians & real dictators' voices)
703 THE J.O.B ( feat. N.Jones, R.Ottaviano, L.Berg)
Multimedia and videofilms DVD's
601 MANDALA (Solo Percussion)
602 ETERNAL TRAVELER (Solo Percussion)
603 TIARE (solo Percussion)
604 THE MUSIC OF GODS (Balinese Gamelan)
605 ECM (solo Percussion)
606 ECM LIVE @USC (solo percussion)