Centazzo recorded and played with the most prominent improvisers and composers of the last 30 years mostly leading his own groups. Among many: John Zorn, Steve Lacy, Alvin Curran, Don Cherry, Lester Bowie, Evan Parker, Marilyn Crispell, Anthony Coleman, Derek Bailey, Tony Oxley, Paul Lytton, Paul Lovens, Pierre Favre, Vinnie Golia, Mark Dresser, Paolo Fresu, Enrico Rava, Dave Ballou, Gino Robair, Larry Ochs, Giancarlo Schaffini, Henry Kaiser, Elliott Sharp, Fred Frith, Albert Mangellsdorf, Franz Koglmann, Theo Jorgesmmann, Perry Robinson, Kristoph Kaskel, John Carter, Andrew Cirylle, Barry Altschul, Lol Coxhill, Steve Swell, Jon Raskin, ROVA Saxophone Quartet, Stephen Drury.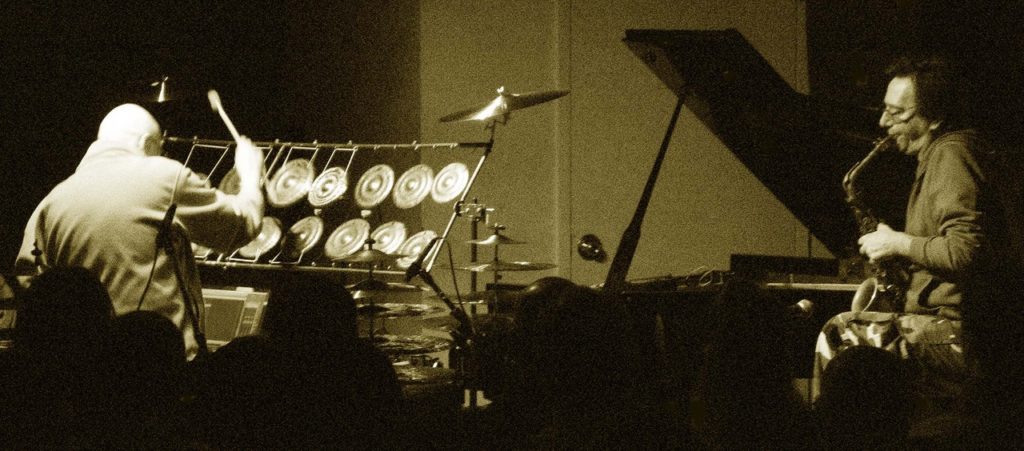 The Mittleuropa Orchestra was founded and conducted by Centazzo between 1980 and 1985, imposing itself as one of the most important ensembles in improvised and European jazz music: the orchestra included several of the most inspiring musicians of the 80s.
Here you can explore many of the Andrea Centazzo groups, compositions and improvisations.
His new trio West Coast Chamber Jazz Trio features Ellen Burr, flutes and Jeff Schwartz, bass and it's the sum of his explorations in Jazz and Improvisation.